Blagaj is only 10 km east of Mostar, and most tourists visit this place during a half-day trip. But the landscape around the small village has really a lot to offer. Since my nice landlady in Mostar really made me want to explore, I decided to stay one night in Blagaj before continuing to Sarajevo.
From Mostar I need about 20 minutes to go there and after a short search I find my small apartment. The owners are very nice and chat with me in Bosnian. We laugh a lot, talk with our hands and we all curse the heat (it's already 33 degrees at 10:30am).
At 11:30am I'm heading towards the castle of Duke Stefan. This Duke ("Herzog") also gave the region the name: Herzegovina. The castle towers a dervish monastery, which is located directly at the source of the Buna (more on this later). After a nice hike in the heat of noon, I reach the fortress and enjoy the wind that blows up here. The view over the deep green valley is fantastic.
I enjoy the scenery and rest a bit. Then I go downhill again – down to the valley. My way leads me to the source of Buna. The river arises underground directly in the mountain and reaches the surface in a cave. Directly at the water, the air is a bit cooler and just like me many tourists relax in the charming waterfront restaurants. Swimming is unfortunately prohibited.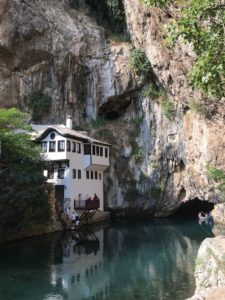 Directly at the cave, a dervish monastery of the Sufi was built in the 15th century. Today the building is open for visits. It seems very cozy to me, many carpets invite to linger. The house is still used for prayer on some days and especially Arab tourists come here for a pilgrimage.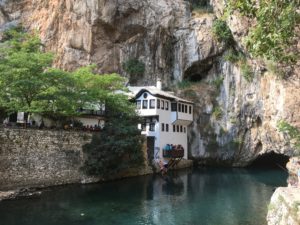 Just a few meters behind the tourist magnet there is a hidden eco-reservat. It's really small and natural, but this makes it even nicer to discover the area by yourself. There are a few donkeys and raptors  (I found the raptor corral a bit small – and since it is scavengers, the strong smell made me leave quickly). Here is also a perfect place for hiking or climbing adventures.
xoxo anita