J-Bay welcomes me with loud bark – I stay at Jessica and Erics, who share their home with 4 dogs and 2 cats. After extensive scratching and fondling I can move into my room and every since I get a good-morning kiss from Sam.
J-Bay is the surfing capital of South Africa, naturally I sign up for a one-day course at Sons Surfschool. For 2 hours William helps me and Kristin to catch the perfect wave in the white water (this is where the waves are already broken). After that I'm sore and sunburnt – but most of all I'm longing to go out there again.
Two days later – due to the weather I had to take a break – I dare to go out without a teacher. Slowly I get a good feeling for the waves. I tell my hosts about my success and Eric decides to become my new surf instructor.
He lends me a wetsuit and a board and brings me out into the "green" waves for the first time in my surfer life. That is quite a difference and I need ages to get the right timing to catch a wave. More than once I feel like in a washing machine. Keeping balance on this tiny shortboard is really difficult…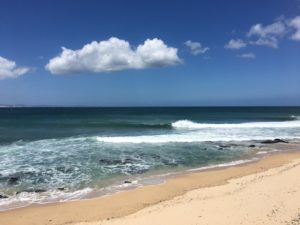 The next day I try again and finally understand how this should work here – and although my success rate is rather modest, my enthusiasm remains unbroken. And to properly live the surfing lifestyle, we have a jam session with Eric's band in the evening.