I'm driving up a bumpy country road into the mountains. The last village I passed about 17 km ago. I am in eastern Bosnia, close to the Montenegrin border. I'm heading to a camp that offers bungalows in Hobbit format >> the crucial point why I've chosen this accommodation 🙂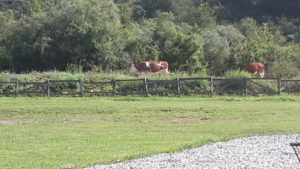 When I arrived, I realized that I fell in love. With this place. That I then got a slightly larger bungalow, is because I have extended my stay immediately.
The atmosphere is just great. We are in the middle of the mountains, it is quiet and everything is running a bit slower here. My small wooden bungalow has all the amenities (comfortable double bed, hot water) and it is incredibly cozy. After a relaxing afternoon and a delicious Muckalice I fall early into a gentle sleep.
For breakfast I got up a bit earlier today (08:00 am) and I was rewarded with a breathtaking view. The low stratus still hangs deep in the mountains, especially over the river that flows only a few meters below the camp.
For today I booked adventure: Rafting at Tara River
My team consists of an English family with three children, which warmly affiliates me, and our guide – the boss of the camp, who honors us with his presence. The trip is TERRIFIC 😀 Quickly we are a well coordinated team, well, the commandos of "Go" and "Stop" are not really hard to get. 😉
And off we go paddling, circling, jumping and splashing each other. Followed by a swim in the ice-cold water. Our wetsuits are only up to the shoulders, so we quickly swim hands up – at 10 degrees water temperature no surprise, brrrrrr.
We also stop at a small waterfall – a great opportunity for some funny photos. On that occasion, my English travel mates get me into the mood of joining them for "canyoning" tomorrow. Uhmm, shall I?
And yes, as I spend so much time at the mountains in Bosnia, I promise: I'll put this on my "To-do"-List for Austria. 🙂
xoxo anita